Resellers and channel partners have an admin page to manage their users.
Autohost resellers and channel partners have their own administrative dashboard to create, update and disable user accounts.
Admin Dashboard Overview
On the left side of the screen, click the "Users" link under the "Reseller Admin" section after logging in to Autohost, as seen in the following screenshot.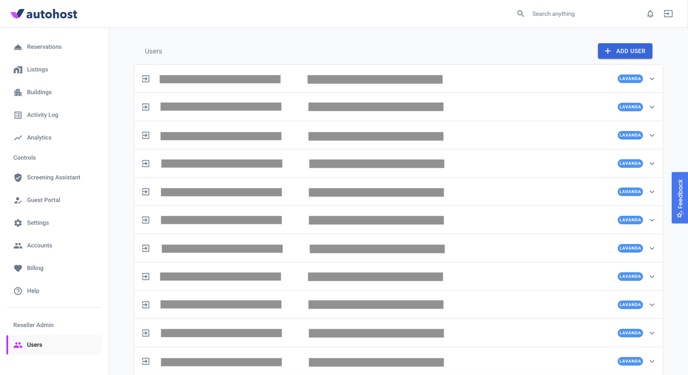 On this screen, you will see a list of users that belong to your account. Clicking the expand icon on the right side of each user row will reveal additional details and management buttons.
Here, you can perform the following actions:
Create a new user account.
Disable a user account.
Suspend a user account.
Edit basic account details such as name and email.
Change account password.
Copy settings from another account.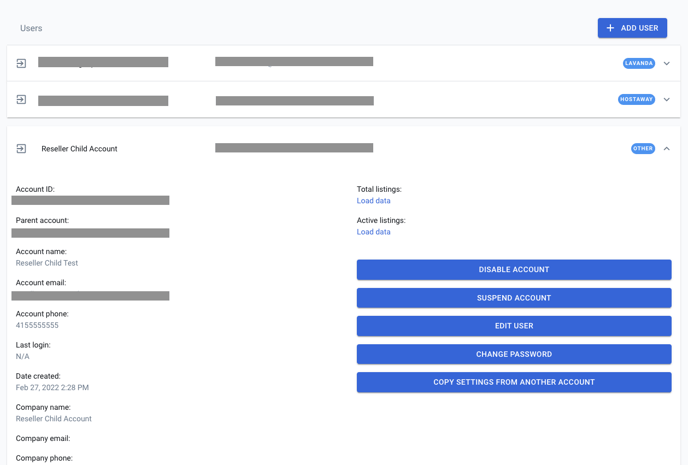 Create New User Account
This method does not work for PMS integrations. This is for API accounts only.
Look for updates on this page when we release another method to create PMS-connected accounts. Until then, contact your account manager for a special link we can provide to help you connect new PMS accounts by yourself.
Click on the "New User" button on the top right corner of the screen. The following dialog will appear.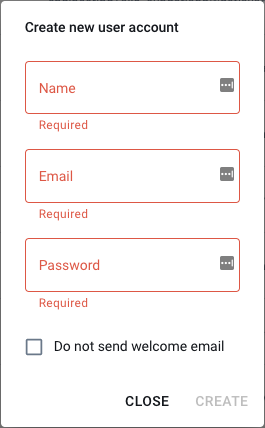 Checking the "Do not send welcome email" box will suppress the default 'welcome email' regular users receive.
Emails must be unique. Sub-accounts with the same email address as owner accounts will not be able to log in.
Accounts cannot be deleted; only disabled or renamed.
Copy Account Settings
To speed up onboarding, you may copy settings from another account. Click on "Copy Settings From Another Account" and search by name the account you wish to use as the source.
This will copy the global account settings and Stargate templates.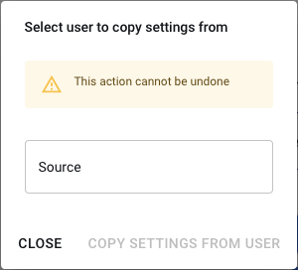 FAQ
How do I get access to the admin dashboard?
Please reach out to your sales representative or customer success manager and let them know you're interested in becoming a reseller if you are not already.
What happens when I suspend a user account?
Suspended user accounts cannot change their settings. They will also see a banner on the top of their page informing them the account is in such status.
All other functionality, including reservations and listings, will work as expected.
What happens when I disable a user account?
Disabled accounts will not be able to log in to their dashboard. New verifications and updates to existing ones will be rejected.
Guest Portal pages will show "Not Found" errors to users.
Why can't I find the Users link in the menu?
This may be due to one of two reasons:
You used the wrong account to log in.
The account you are using does not have "partner" permissions (email your account manager to resolve this.)
Can my "children" accounts see billing details?
No. Accounts that you create under your primary reseller profile will not be able to see billing details or pricing.