If there's an issue during the guest's stay, here's how to make a claim against their credit card:
If there's an incident/damage caused during a guest's stay, there are two ways to charge them:
1. You can "capture" a payment (withdraw an amount from a pre-authorized security deposit.)
When you capture payment from a security deposit, you can only go up to the max pre-authorized amount. To do this, find the uncaptured payments in Stripe and process a claim while it's still active. Alternatively, this can be done directly through Autohost (note: every claim done through Autohost will incur a $5 fee.)
Under "Security Deposit," click the dropdown beside "DEPOSIT ACTIONS."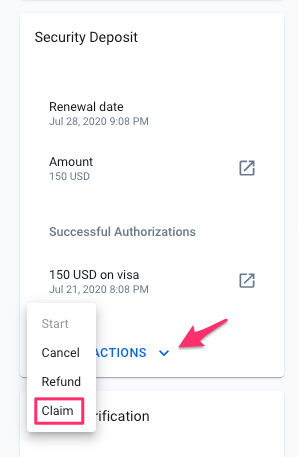 2. Create an invoice and charge the credit card on file.
This option is better for higher amounts. In this case, you can create a new customer invoice on Stripe and charge the credit card the guest has on file.
It is very important to do your due diligence when making a claim against a guest. The exact process will depend on your internal policies and business practices, but in general, be sure to do the following:
Inform/notify the guest of the charge.
Explain to the guest why they're being charged/remind them of your property rules/policies and the terms of their rental agreement.
When you are involved in a dispute, be sure to have prepared the necessary documentation, and learn how to respond to disputes through Stripe.