Learn what to do when a reservation's security deposit request is declined:
Establishing your business practices and risk tolerance
If the security deposit fails, your team will be notified to take one of two actions: 1) request a new card, or 2) inform the guest that you will not host them. To make the decision that is best for your business, it is essential to create a set of rules to guide your decision-making process for a wide variety of scenarios.
What to consider
In general, if other concerns were flagged (especially if payment was initially an issue), a declined deposit might be a sufficient reason to cancel. However, if there is a possibility that it is an honest and temporary issue, many Property Managers may decide to offer the guest another chance to enter a different credit card (or free up the funds on the existing card).

In this particular case, you have the ability to re-run the request to charge a security deposit by directing the guest to re-submit the Security Deposit Screen again to enter the new card details.
If funds are being released on the old card, no action is required. Autohost will re-attempt to charge the pre-authorization every few hours.
You can direct the guest to the Security Deposit Screen by using the URL for this screen, under the Links tab of the specific reservation (see the image below).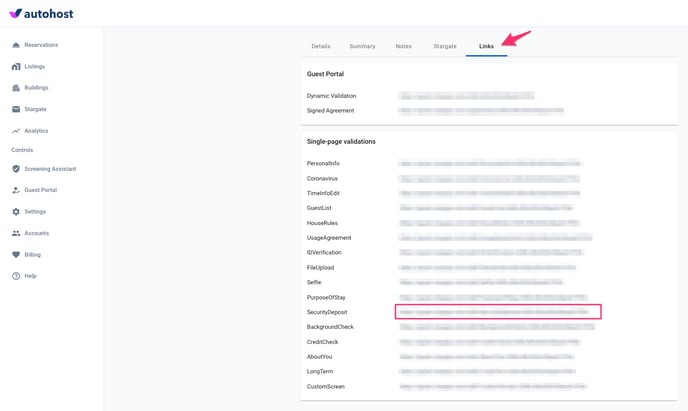 The actual security deposit (the pre-authorization that starts as early as 7 days before check-in) will only be processed for verified and/or manually approved guests.
The purpose of the security deposit is to hold funds on pre-authorization for the duration of a guest's stay, not to charge as validation (referred to as the pre-authorization amount). Feel free to learn more about security deposits by reading this article.
A credit card authorization can fail for many reasons. Learn about them by reading this informative article written by Stripe: Decline codes