Here's what to do if a guest is experiencing issues uploading their ID.
When the ID upload fails, there are three common issues:
The guest has submitted a low-resolution image (due to poor camera quality).
The guest's document does not properly fit into the frame (this prevents the AI from reading the security features and bar codes).
The guest submitted an image that has a noticeable glare (this prevents the AI from reading sections of the document like the address or person's name).
To ensure a successful ID upload, encourage the guest to attempt uploading their ID again. If they are having issues accessing their mobile camera, they will be prompted with a step-by-step guide to enabling camera permissions.
Under Guest Portal → ID Verification, you have the ability to adjust the number of failed upload attempts permitted.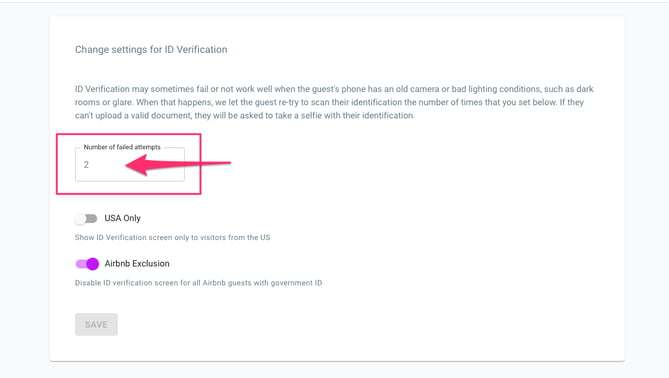 Note: Autohost's ID Verification now requires guests to complete the ID verification and provide a selfie. In the event the guest is unable to upload or take a photo of their ID, they will skip ahead to the selfie screen.
What to do if the ID upload fails
Due to limitations out of our control, we cannot always capture a quality photo for proper ID verification. Regardless, we will still provide the most recent upload for your manual review. With that said, we recommend that property managers look closely at the guest's name, date of birth and expiration date on the document. Scan for discrepancies and compare the photo on the ID with the selfie submitted by the guest.

Do we still charge if the ID upload fails?
If for whatever reason, the ID upload quality is not sufficient to run our in-depth analysis and verification, you will not be charged. This goes for any other Autohost feature—you are only charged if the verification is completed.